Are you considering entering the exciting world of cryptocurrency trading but struggling to choose between Coinbase and CEX.IO? Fear not! In this post, I'll provide an in-depth comparison of the two exchanges. To do this I will compare their background, fees, security, supported coins, availability, customer support, and unique features. By the end, you'll have all the information you need to make an informed decision on whether to choose Coinbase or CEX.IO
Coinbase and CEX.IO are two of the most popular crypto exchanges, each with its own advantages.
CEX.IO has lower fees overall, but both have strong security measures in place to keep user accounts safe.
Both offer a great selection of coins plus unique features like margin trading, staking services & more.
Overview of Coinbase and CEX.IO
Coinbase and CEX.IO are two of the most popular cryptocurrency exchanges in the market today, both boasting good reputations and user-friendly platforms.
Coinbase is a US-based company founded in 2012. It a well know brand with an easy-to-use interface and a wide range of supported digital assets.
On the other hand, CEX.IO, a UK-based exchange established in 2013, offers a more clutter-free interface and a wider range of services like margin trading and cloud mining.
But which one is the better choice for you? Let's dive deeper into their backgrounds to find out.
Coinbase Background
Coinbase, headquartered in San Francisco, has been a dominant player in the cryptocurrency exchange space since its inception in 2012.
As a publicly traded company in the US, Coinbase has a solid reputation for trustworthiness and regulatory compliance, boasting well-known investors, a transparent team, and an impeccable track record.
When it comes to the pros and cons of using Coinbase, users enjoy great liquidity, easy setup with debit and credit cards, and a user-friendly interface. However, there have been isolated reports of privacy breaches, and trading fees can become pricey for those trading with low amounts.
CEX.IO Background
CEX.IO, on the other hand, is a UK-based cryptocurrency trading platform that has been in operation since 2013. Originally CEX.IO offered cloud mining services and eventually pivoted to focus solely on the exchange platform. The company is registered in London and also as a Money Services Business with FinCEN in the United States.
CEX.IO offers a wide range of services, such as spot trading, margin trading, and cloud mining. It supports over 200 cryptocurrency trades and provides a user-friendly interface. CEX.IO has a number of advantages for traders.
These include high trading volumes, payment facilities such as wire transfers and credit cards, and the facility for instant purchases of coins.
However, the platform also has its cons, such as premium prices, canned customer support responses, and a demanding verification process.
Fee Structures Compared
When it comes to fees, CEX.IO is generally considered the more cost-effective option with lower fees than Coinbase. However, it's essential to consider the specific fee structures of each platform to make an informed decision.
Let's break down the fees for both exchanges in more detail.
Coinbase Fees
Coinbase charges fees based on the type of transaction you're making. The larger the amount you transact the lower the fees. The first tier of transactions charges 0.6% for taker market orders and 0.4% for makers.
Coinbase Fees
| | | |
| --- | --- | --- |
| Tier | Taker Fee | Maker Fee |
| $0K-$10K | 60bps | 40bps |
| $10K-$50K | 40bps | 25bps |
| $50K-$100K | 25bps | 15bps |
| $100K-$1M | 20bps | 10bps |
| $1M-$15M | 18bps | 8bps |
| $15M-$75M | 16bps | 6bps |
| $75M-$250M | 12bps | 3bps |
| $250M-$400M | 8bps | 0bps |
| $400M+ | 5bps | 0bps |
A taker is someone who sets a market order to buy a cryptocurrency at the prevailing price. If you use Coinbase's simple retail version there will only be a buy button. When you click on that it places a market order and therefore you will be charged a taker fee.
If on the other hand, you set a limit order then you will be charged a maker fee. A limit order tells Coinbase to raise its hand in the crypto market and tell everyone that you are willing to buy at a specific price or less. For a market to work you want to have lots of maker orders on either side of the current price with different orders to buy or sell at varying price points.
This is what makes a market and why they are called "maker orders". Coinbase charges you less for these types of transactions because you are making their marketplace more liquid that way.
Coinbase Pro charges the same fees. Coinbase Pro used to be a separate app that charged lower fees. Coinbase has since moved away from having two apps. You can now toggle between pro features and the simpler features within the Coinbase mobile app. The pro version is for more experienced traders who want to be able to set different types of orders such as limit orders, stop loss orders, and the like
Coinbase Deposit fees.
For those of you who are based in the US, the simplest way to transfer money to Coinbase is to use ACH. This incurs no fees. Otherwise, if you make a wire transfer you will incur $10 to deposit and $25 to withdraw.
If you are based in Europe the cheapest option is to make a wire transfer which incurs €0.15 for both withdrawals and deposits.
For those in the UK, SWIFT deposits are free while withdrawals cost £1.
Coinbase payments methods
Coinbase allows you to use a variety of options to pay for. You should be aware that Coinbase no longer allows you to pay using a credit card. You can however use a debit card. However, know that Coinbase does not report the fees incurred from using a debit card anywhere on their site.
Other payment methods are ACH, wire transfers, Debit Cards, PayPal, Apple Pay, and Google Pay.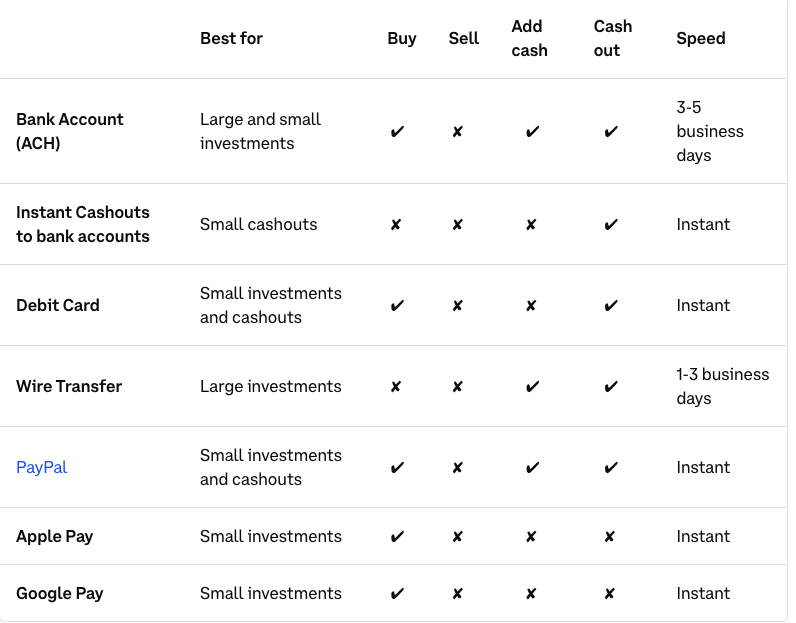 Source: Coinbase. You can also find payment methods for EU customers here or here if you are based in the United Kingdom.
CEX.IO Fees
CEX.IO is cheaper than Coinbase. Its taker fee is 0.25% for transactions less than $10,000 compared to 0.6%. And its maker fees are 0.15% vs Coinbase's 0.4%.
Bank transfers from CEX.io will set you back $2.99 while using other payment methods such as Visa, Mastercard, Skrill, and Google/Apple Pay will cost at least 2.99% plus a surcharge.
Withdrawal fees differ per payment method. If you use ACH to withdraw to your bank account you pay a flat $3.99.
The most cost-effective way to deposit funds on CEX.IO is via bank transfer. Although this method may take longer to process than credit card transactions, it helps users save on fees in the long run.
You can check out their comprehensive list for more details.
Security Measures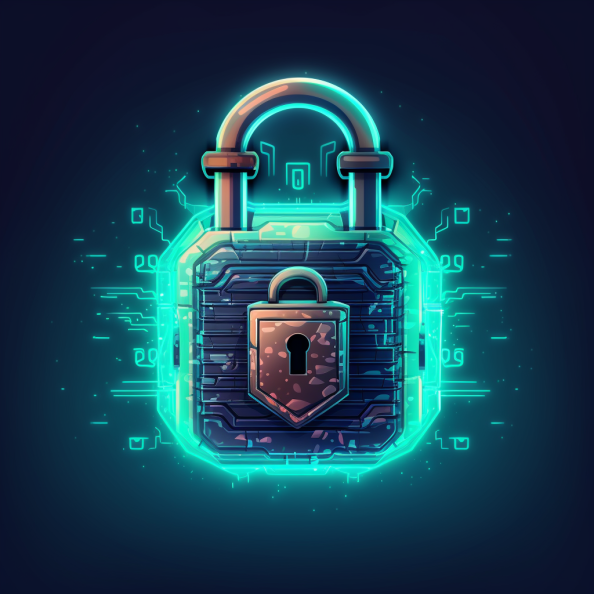 As with any financial platform, security is a critical concern for users of cryptocurrency exchanges.
Both Coinbase and CEX.IO have implemented robust security measures to protect user accounts and funds.
Coinbase is known for its strict security protocols and insurance protection, while CEX.IO makes use of cold storage and two-factor authentication.
Let's take a closer look at the security measures employed by each exchange.
Coinbase Security
Coinbase takes user security very seriously and employs industry-leading practices to protect user accounts. Passwords are hashed using the bcrypt algorithm, and enhanced password protections are in place.
Coinbase also notifies users if their password may have been exposed and has measures in place to prevent CSRF attacks.
In addition to these security measures, Coinbase also provides insurance protection for its users. Most of their funds are kept secure in cold storage.
They spread these funds between vaults and safety deposit boxes located around the world. Any online funds are insured by a Lloyds of London syndicate, providing an extra layer of protection for users.
CEX.IO Security
CEX.IO also prioritizes user security, implementing a range of measures to safeguard user accounts and funds.
These measures include the use of cold storage, two-factor authentication, SSL certificates, and mandatory security protocols for certain payment methods.
Although CEX.IO does not disclose as much information about its security measures as Coinbase, the platform's use of cold storage and two-factor authentication provides users with a sense of confidence in the safety of their funds and personal information.
Supported Cryptocurrencies
Both exchanges support a very long list of more than 200 crypto trading pairs.
In terms of breadth of options there is nothing to distinguish the two.
Geographic Availability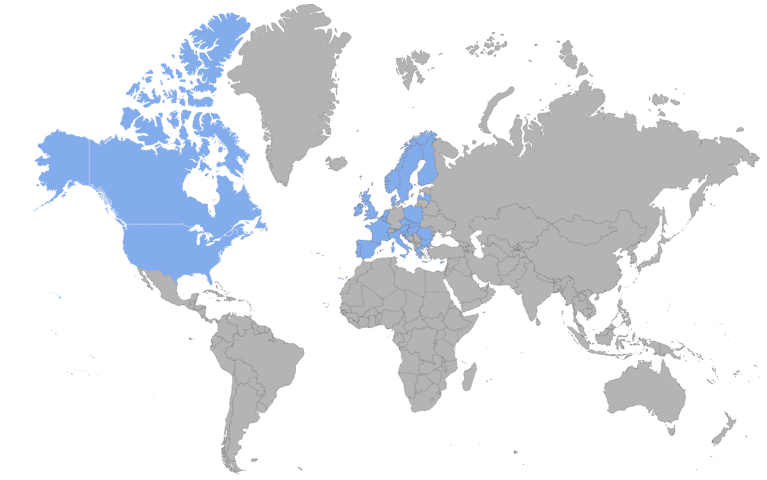 When considering a cryptocurrency exchange, it's important to take into account the geographic availability of the platform. Coinbase serves over 30 countries in the US, Canada, EU, and UK.
On the other hand, CEX.IO boasts availability in more than 220 countries.
In the map below you can see the countries that CEX.IO is not present in.
The most notable is Russia. You should also be aware that CEX.IO is not available in the state of New York.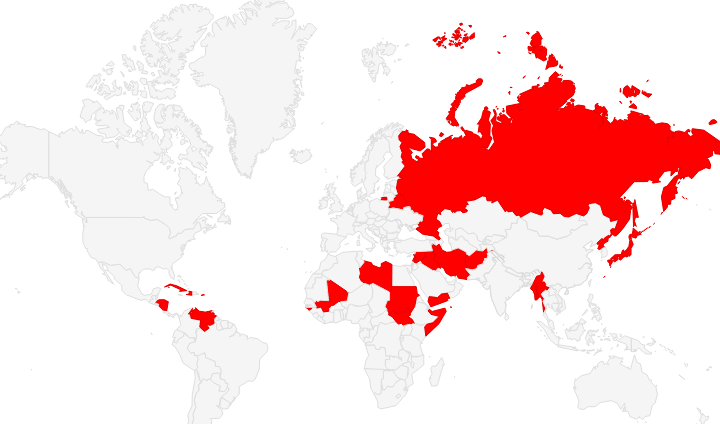 Customer Service and Support
A key aspect to consider when choosing a cryptocurrency exchange is the quality of customer service and support provided. In this regard, both Coinbase and CEX.IO offer reliable support to their users.
Coinbase provides email support with a 24-72 hour response time and an extensive FAQ section, while CEX.IO offers quick and helpful email support with a comprehensive FAQ and helpful guides.
Let's dive deeper into the customer support offered by each platform.
Coinbase Customer Support
Coinbase's customer support is primarily provided through email, with response times typically ranging from 24 to 72 hours, depending on the nature of the query.
However, faster turn around times are available if you reach out to them via live chat.
While this may not be as fast as some users would like, it's important to note that Coinbase makes an effort to address and resolve user issues in a timely manner.
In addition, to email support, Coinbase also has an extensive FAQ section that covers a wide range of topics and common questions.
This resource can be particularly helpful for users looking to find quick answers to their questions without having to contact customer support directly.
CEX.IO Customer Support
CEX.IO's customer support is known for its quick and helpful responses to user inquiries. Users can reach out to the support team via email and typically receive prompt assistance with their questions or concerns.
In addition to its responsive email support, CEX.IO also offers a comprehensive FAQ section that covers a wide variety of topics related to the platform and its features.
This resource is an excellent starting point for users looking to find answers to their questions without needing to contact customer support.
Furthermore, CEX.IO provides helpful guides on topics like margin trading, making it easy for users to learn about and navigate the platform.
Trading Limits and Verification
Another important factor to consider when choosing a cryptocurrency exchange is the trading limits and verification processes in place. Coinbase has somewhat unclear buying limits, which vary depending on user verification, location, and payment method.
In contrast, CEX.IO has different limits for basic and verified accounts. Let's take a closer look at the verification and trading limits for both exchanges.
Coinbase Verification and Limits
Coinbase has an extensive verification process that requires users to provide personal information such as their name, address, date of birth, and phone number.
In addition, users must also provide a valid government-issued ID to complete the verification process.
Coinbase's trading limits can vary depending on factors such as user verification level, location, and payment method.
Generally, users are not limited in how much crypto they can sell to their Coinbase cash balance. However, specific limits apply to certain transactions, such as buying digital currencies, and depend on factors like account age, transaction history, and the verification steps completed.
CEX.IO Verification and Limits
CEX.IO requires users to provide personal information, such as their name, address, and date of birth, to confirm their identity.
This verification process ensures that users are who they claim to be and helps maintain the security and integrity of the platform.
In terms of trading limits, basic accounts at CEX.IO are limited to purchasing up to $1000 worth of bitcoins per day and $3,000 per month. Verified accounts are eligible for a higher limit – up to $10,000 per day or $250,000 depending on their payment method.
Unique Features and Services
Lastly, let's examine the unique features and services offered by Coinbase and CEX.IO. Coinbase is constantly adding new services to its platform, such as custody, staking, earn, and card.
Meanwhile, CEX.IO focuses on providing features like margin trading and staking for XTZ. Let's explore these unique offerings in more detail.
Coinbase Unique Offerings
Coinbase offers a wide range of unique features and services to its users. In addition to its comprehensive selection of cryptocurrencies and trading options, the platform also provides educational content, a mobile app, and a customer support system.
One standout feature is Coinbase Earn, which allows users to earn free crypto assets just by watching educational videos and taking quizzes.
Furthermore, Coinbase provides additional services like custody for institutional investors, staking for certain cryptocurrencies, and a debit card that allows users to make purchases using their crypto assets. These features help set Coinbase apart from other cryptocurrency exchanges and cater to the diverse needs of its user base.
CEX.IO Unique Offerings
CEX.IO also offers a range of unique features and services for its users. Margin trading is one such feature that allows users to amplify their buying power and potentially increase their profits. Additionally, CEX.IO provides staking services enabling users to earn rewards just by holding the coin in their wallet.
In addition to these unique features, CEX.IO has helpful guides for users looking to learn more about trading and navigating the platform.
How to choose between the two
In conclusion, both Coinbase and CEX.IO are reputable and user-friendly cryptocurrency exchanges. They both cater to a wide range of users and preferences.
If you look at trading volume Coinbase is the clear winner. Coinbase's daily trading volume stand at a whopping $1.3 Trn vs cex.io's $6mn proving that Coinbase is one of the top cryptocurrency exchanges.
While Coinbase offers a more extensive range of supported cryptocurrencies and unique features like Earn, CEX.IO provides lower fees and a wider range of deposit methods.
Ultimately, the choice between these two exchanges will depend on your individual preferences, trading needs, and geographic location.
Frequently Asked Questions
Is there a better platform than Coinbase?
It appears there are several viable alternatives to Coinbase. Binance, Bitstamp and Kraken all offer lower fees than Coinbase and some offer more advanced features.
Therefore, these platforms may be a better choice for those looking for an alternative platform with low fees.
What is the fee difference between Coinbase and Cex?
When it comes to cryptocurrency exchange fees, there's a noticeable difference between Coinbase and CEX.io. Coinbase charges up to 3.99% while CEX.io has a lower fee percentage of 2.99%.
Clearly, CEX.io wins this round when it comes to fees!
Is CEX.IO legit or fake?
CEX.IO has been around since 2013 and continues to be a trusted, reliable exchange service for users around the world. Based on reviews and ratings from thousands of customers, CEX.IO is definitely a legitimate crypto exchange platform. With its regulation and licensing, long track record, and positive reviews from thousands of customers, CEX.IO is a legitimate exchange platform.
Is CEX.IO legal in the United States?
Based on the licensing that CEX.IO has, it is legal to use CEX.IO in the US.
But I thought Coinbase charges 1%.
It's true that Coinbase charges 1% on transactions but this is for their commerce accounts. Coinbase commerce accounts are a solution for merchants who want to be able to get paid in cryptocurrencies.
Up Next
Check out my comprehensive guide on the best Crypto Telegram groups you should follow to stay in the loop on all things crypto. Read more.